Beginner Circuit Training Classes Enrolling In October
Circuit training in North Branford is a way to condition your body using endurance training, resistance exercises, and high-intensity aerobics. By completing a series of exercises, or a "circuit", you'll get an intense, targeted workout -- and then you get a short rest and do it again.
Our circuit training at CT Krav Maga & MMA is a simple and effective way to lose weight, build lean muscle across your entire body, and enjoy fitness! Because you're rapidly moving through a varied series of exercises, you won't get bored of the same repetitive motions. Join us in North Branford to get started!
Just fill out the short form below to learn more about circuit training!
Circuit training classes are a great way to add variety to your workout. They are fun with varying stations that work all your muscle groups for a head-to-toe workout. It is also a great way to avoid gym boredom.
Typically you will cycle through 5 stations with varying equipment. We often use kettlebells, battle ropes, medicine balls, sand bags, rope ladders, and body weight exercises to keep you moving and burning calories.
Each class has a motivating instructor so you don't have to figure things out on your own.
Classes are very beginner-friendly because no experience is needed and you go at your own pace. Circuit training is a great way to help you on your journey to wellness, whether it's weight loss, toning, strong bones, or increased strength.
Our Circuit training will help you:
Achieve sustainable weight loss
Build muscle strength and endurance
Finally get the results you've been looking for
Connect with an incredible fitness community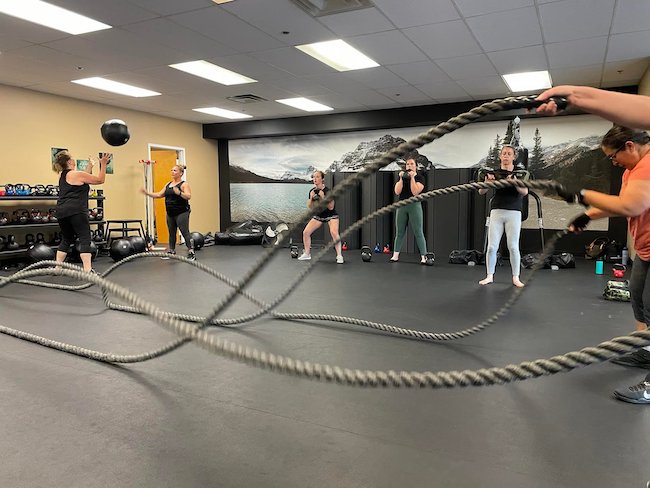 Get Started at CT Krav Maga & MMA Today!
If you've struggled with getting results in the past, that's okay! Now it's time to be stronger than your excuses. When you join our community at CT Krav Maga & MMA, you'll get the earnest support and accountability you need to achieve incredible things. Our circuit training program is designed to help ordinary men and women from around Branford see real results.
Just fill out the short form below to get started with circuit training!