Best Body Countdown
We have partnered with Sohailla Digsby, RDN, LD, CPT to bring you a complete solution for weight loss and wellness. Regular exercise is ideal for helping to burn off what your resting metabolism doesn't burn off so that you are in caloric balance over the course of each week. When you are in caloric balance, there is not a need to store excess calories in the form of fat tissue in your body.
Regular exercise also helps keep us moving and helps build strong muscles and bones, which is vital to keep us healthy and mobile as we age. However, many of us have sedentary lifestyles or don't like to exercise. If you have fat tissue that has accumulated that you are trying to burn off, it will take more than exercise to achieve that goal.
The more significant contribution to weight loss comes from the changes you make in your intake (the food you eat). The changes you make in your output (the calories you burn exercising) helps to create an overall calorie deficit required for weight loss but has a less significant impact than what you eat.
The reason diet has a more significant impact on weight loss than exercise, is because you can easily undo all your hard work exercising for an hour by taking less than 5 min to eat something that is high in calories. For example, some smoothies or coffee drinks can be up to 580 calories. An hour walk typically burns between 210 and 360 calories for most people. Diet and exercise need to work hand in hand for lasting results with maintaining your ideal weight.

We offer 3 solutions for helping you achieve your best body through nutrition. Paired with our group fitness classes, you will have the roadmap to achieve your goals. The only thing left will be to take action.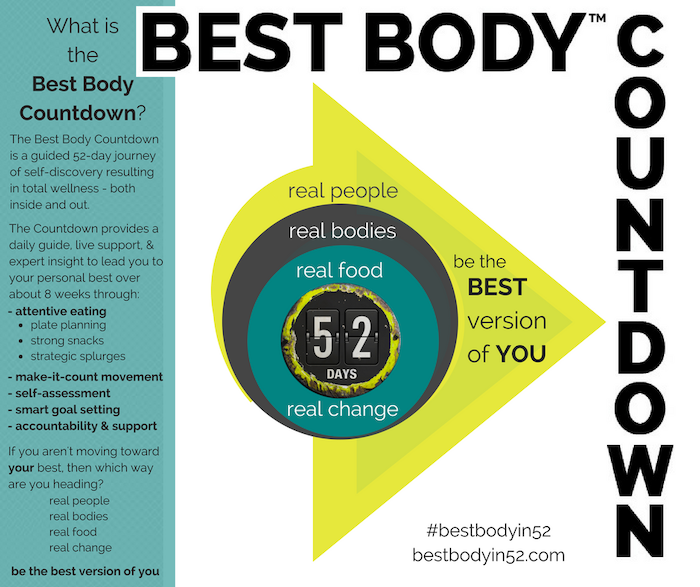 The Best Body Countdown is a guided 52-day journey of self-discovery and lifestyle change resulting in inner and outer strength and wellness. This countdown helps bring together diet and exercise to get you to a healthier lifestyle and weight.

The essentials of the program are:

Self-assessment
Accountability
Sugar intake reduction with support and recipes
Water/beverage choices
Balanced meal planning with an emphasis on vegetables and purposeful snacks
De-emphasis on processed food
Strategic splurging
And "make-it-count" movement.
The overarching goal of the Countdown is to offer the necessary support and insight for each participant to be their personal best. Participants have described it as a journey of self-discovery, appreciating the many practical exercises of self-awareness that direct them, along with expert research-based advice, as to what needs to be tweaked or transformed in their lifestyle. Participants are rewarded for engaging in healthy behaviors, rather than for their immediate "numbers/outcomes."
Each challenge is run in January and September
The Best Body Countdown includes:
Countdown to Your Best Body Success Journal (186-page paperback)
Meal measure (plate-based measuring-tool)
Best Body Countdown Cookbook & Menu Plan (200-page full color paperback)
Premium infuser water bottle with markings for tracking

Best Body Club Support:

Administrative support and RDN support, including hosting of private Facebook Best Body Club support page, Don't Quit Chats, & daily emails during the 52-day Countdown
Assessment forms (both in the in Success Journal Appendix and available electronically)
Prize bundle for 10 Best Body Tickets (10 health-promoting prizes)
To get on our email list for the next countdown, please click on Request More Information. We will reach out through email when enrollment opens up with the details on the challenge and the cost.
RD on Your Team

Members of our studio have the year-round support of RD on Your Team. RD on Your Team offers the following support:


You will receive Expert Monthly Q&A Live Chat Zoom meetings with Sohailla, a registered dietician. There will be a prize drawing each month for attendees. You can ask any weight loss or nutrition questions that you have and Sohailla will go over your questions during the Q&A.

You will receive two hot topic emails from Sohailla monthly with nutrition messages targeted to fight fads and false info, and to lead to results.

You will receive emails with a meal or recipe of the week from Sohailla (52 annually) plus 3-4 bonus links to reputable sites

You will receive a Nutrition tip of the week from Sohailla to help you stay on track.
Mini-Challenges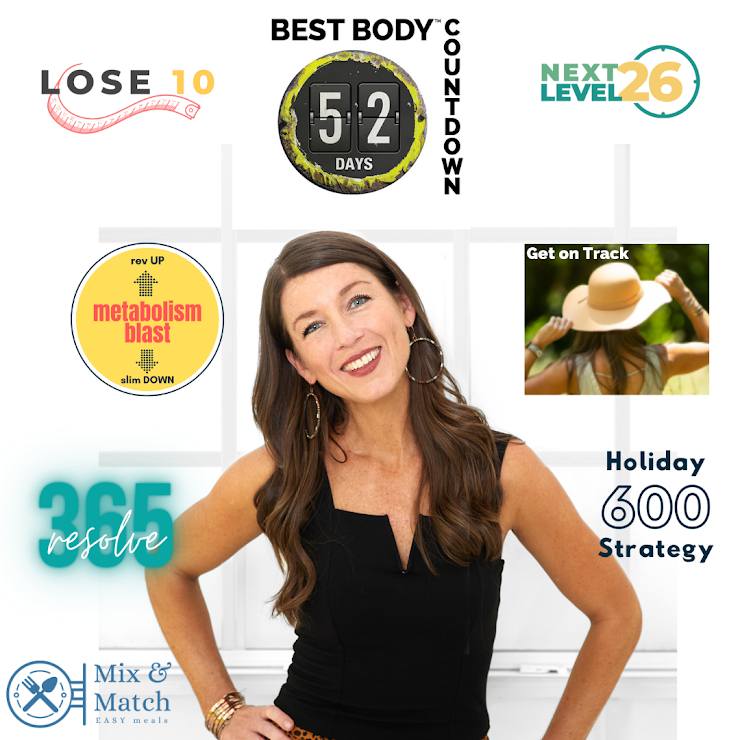 Throughout the year, when we are not running a Best Body Countdown challenge, we will provide mini-challenges that are fun and help keep you motivated toward your goals.

With all three levels of support provided by our partnership with a registered dietitian, plus the fun group fitness classes offered at our studio, you will have a proven formula for success with weight loss or a healthier lifestyle, depending on your goals.